Here is the finished Bethlehem sketch, made into a postcard and available for sale at the link below.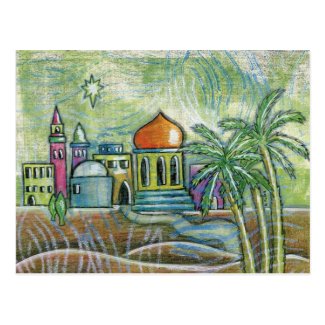 Bethlehem II Postcard
by
DMellenDesigns
Look at Christmas Postcards online at
Zazzle.com
I sketched out a series on Bethlehem for the Christmas season. Here is one of my drawings that I did using colored pencils on a Gelli printed page. I made the page using a Gelli-plate and acrylic paints, using tools, stencils and layers. After I have a stack of pages, I go through them and select one with colors, shapes or textures that I want to incorporate into my sketch.
I used a gray colored pencil and outlined the architecture from my imagined village of Bethlehem. I wanted to depict Bethlehem with arches, domes, cupolas in the middle of the dessert. I drew in hills and palm trees.
Then I outlined the shapes with ink. I used a permanent ink and a thin tipped pen.
I started to color in the buildings and since I wanted it to look less like a coloring book, I only colored in parts of the buildings, where I pictured the shadows or where it was darkest on each structure.
I went back over some of the buildings, adding slightly darker colors over the first layer and tried to preserver the highlights, so I went over them with white pencil.
I left the palm trees until last and worked on the sand dunes.
I added more layers of color and blended the areas from dark to light. It is the first in the Bethlehem Series.