I've been working on a line of small bags, (think pencil-case or cosmetic bag) also known as baguette bags. The bags are 7x4 inches with a satin exterior and nylon zipper. They're perfect for holding things... pencils, small toys, treats, keys, medicines, CHOCOLATE...
Right now, there are 5 designs, each made from a unique Gelli-print that's bold, brilliant and bodacious!
You can order them all from here
or chose one from the links below. They're made in the USA and be sure to check out zazzle's home page for a coupon code to use for an additional discount.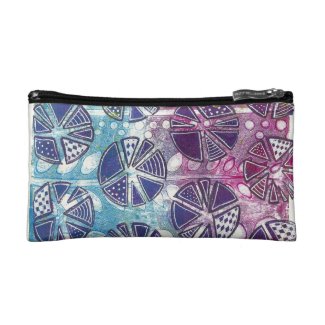 Bodacious Bonnie 5 Cosmetic Bag
by
DMellenDesigns
And the brilliant colors and bold prints were inspired by my friend, the Bodacious Bonnie, my partner-in-Gelli-printing-crime and a woman who knows how to laugh!